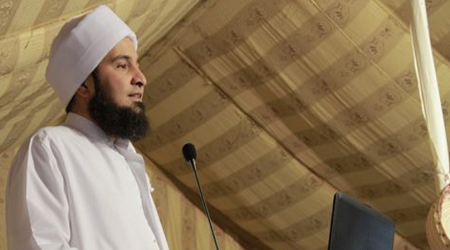 As part of the activities and proceedings of the Sixth Annual Convention of Muslim Da'wah Workers held in Tarim-Hadramawt – attended by over a thousand da'wah workers worldwide including members of Tabah's work personnel – Al-Habib Ali AlJifri (Chairman of Tabah's Management Board) presented a lecture under the convention's fourth theme entitled "Changes and Events: how should the da'wah worker understand and deal with them".
Al-Habib Ali shared the session and platform with Shaykh Umar ibn Husain al-Khatib, and in his speech he pointed out the themes classifying the challenges confronting the da'wah worker and Islamic discourse in an environment characterized by changes and events, identifying four key themes in the process:
1. Religious illiteracy.
2. Problems of Islamic discourse in its interactions vis-a-vis thought and movements.
3. Civilizational identity.
4. Cultural openness.
His participation in the convention came under one of four themes around which this year's convention centered:
• 'Rules and Recommended Practices in Da'wah and Media Work'.
• 'Cooperation and Coordination between Media Institutions'.
• 'Changes and Events: how should the da'wah worker understand and deal with them'.
• 'The Role of the Da'wah Worker in the Context of His Family'.
It is worth mentioning that the convention was attended by a large number of da'wah workers, preachers and teachers. The attendance by females active in the field of da'wah was particularly noteworthy and they numbered around 200 da'wah workers. The convention also coincided with sixteenth annual commemoration of the opening of Dar al-Mustafa in Tarim-Hadramawt held every year on the 29th of Dhul Hijjah.
https://tabahinitiatives.org/wp-content/uploads/2018/02/Chairman-of-Tabah-Management-Board-participates-in-the-6th-Annual-Convention-of-Islamic-Callers-to-Islam.png
250
450
Tabah
/wp-content/uploads/2016/02/Tabah-Research-Logo-RGB-300x139.png
Tabah
2018-02-07 19:36:45
2018-02-07 19:36:45
Chairman of Tabah Management Board participates in the 6th Annual Convention of Islamic Callers to Islam