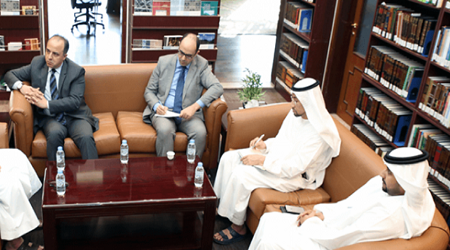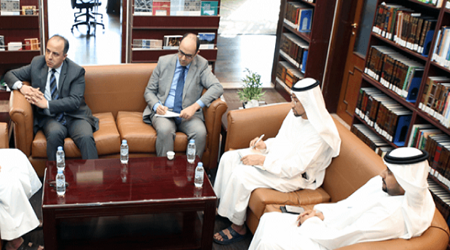 On Tuesday, 6th of December 2016, the Tabah Foundation was pleased to welcome H.E. Wael Gad, Egyptian Ambassador to the UAE. Mr. Gad met Habib Ali al-Jifri, the Tabah Foundation's Founding Chairman, Adel Alkaff, Initiatives Manager, Alawi al-Jifri, Private Business Manager, and Mohammed Al Saqqaf, Communication and External Relations Supervisor.

Their discussion tackled the realityThey discussed the current condition of the Islamic discourse today, its effect on the community, and its assigned vested role to develop towards the rise of nations. Mr. al-Jifri expressed his fondness and gratitude towards Egypt, his recognition of its virtues among favor upon the Arab and Islamic nation, and its role in the stability of the region. He explained to Mr. Gad the role of the Tabah Foundation as a research organization that contributes to re-enablinges Islamic discourse to recover its ability to understand the real -world context. He highlighted the prudency of such a renewal, and that the halt of philosophical and theological research over the past four centuries, was a factor which, he said, hads prevented the Islamic discourse from contributing to the developments of human civilization today as it once did in the past. According to Mr. al-Jifri, before discussing the effect of this discourse on the present, we have to speak with others about the Islamic knowledge modelparadigm and its ability to recognize various thoughts and civilizations, without being confined to one model. This is the main objective of researchers in the what Tabah Foundation researchers are now engrossed in as part of its project in re-prioritizing sciences and their inter-relations of the classification of sciences and their interrelationship, which deemed to be as a keystone in rebuilding the reconstruction of the Islamic knowledge modelparadigm.
As the project requires significant time and intensive research, the Tabah Foundation does not neglect the need to interact with current issues related toconcerning the Islamic discourse. To explore the future of Islamic discourse, the Foundation, through it Futures Initiatives, launched at the beginning of the current this year a survey to that covered more than 5000 Muslim millennials in 8 Arab countries. The aim of the survey was to review their aspirations and views on religion and religious leadership. The Initiative investigated extremism in the name of religion, and exploitation of religion in trends and parties leading to killing and devastation, as well as non-religious extremism.
https://tabahinitiatives.org/wp-content/uploads/2018/02/السفير-المصرى.png
250
450
Tabah
/wp-content/uploads/2016/02/Tabah-Research-Logo-RGB-300x139.png
Tabah
2018-02-07 19:38:07
2018-02-07 19:38:07
Egyptian Ambassador to the UAE Visits Tabah Foundation